Getting Started
Note: At this time only current undergraduate students have access to make appointments using LoboConnect.
To schedule an appointment with an advisor or the Career Center through LoboConnect use the following steps:
Log on to sonoma.edu and the SSU online services page
Choose the LoboConnect icon

Select the Schedule an Appointment link on the right side of the page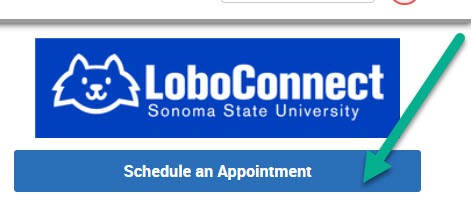 This will take you to the start of the student scheduling process. Select what type of appointment you wish to schedule from the drop down list. Your choices are Advising or the Career Center.
Scheduling an appointment with the Career Center
Select the option to schedule a Career Center Appointment from the drop down menu
Select an option from each of the drop down lists. Choose Next when you are ready to proceed to the next page.
Select the Career Center for the location that you prefer. Select the specific staff member you wish to schedule with or press next if you do not have a preference.
The blue boxes on the scheduling menu show available appointments and allow you to choose a time to meet. Use the right arrows to see appointments available for another week. You can also view drop-in times (if available) by clicking the button View Drop-in Times. Choose Next after you have selected an appointment time.
Add a comment if there is anything you would like the advisor to know about the appointment or to provide futher details about the reason for the appointment. Confirm your appointment reminder options.
Choose Confirm Appointment to schedule the appointment
Scheduling an appointment with The Advising & Transfer Center
Select the option to schedule an Advising appointment from the drop down menu
Pick a Service Category from the drop down menu. Service Category is the type of advisor you want to meet with. Different options will appear in the scheduler depending on your major and certain populations you are a part of.
Pick a service or a reason for your appointment
Pick a location for your appointment
Pick a Staff Member from the drop down list and press Next
The blue boxes on the scheduling menu show available appointments and allow you to choose a time to meet. Use the right arrows to see appointments available for another week. You can also view drop-in times (if available) by clicking the button View Drop-in Times. Choose Next after you have selected an appointment time.
Add a comment if there is anything you would like the advisor to know about the appointment or to provide futher details about the reason for the appointment. Confirm your appointment reminder options.
Choose Confirm Appointment to schedule the appointment